🏝 Adventures in Maui
Written Oct 1, 2021.
This my first public writing in a more "novel" style. Names changed for confidentiality.
I arrived on Maui on a hot day of May 2019.
Coming from Oahu, where after a couple days I couldn't feel the vibe I was looking for. I got almost stabbed in Honolulu (story for another time).
I had booked a cheap flight from Japan, thinking I'd stay in Airbnb's like I did in SEA. When I finally looked at it, my god it was expensive. It didn't help that I was of course doing everything last minute.

The cheapest I found for 2 nights. Nah.
As a still relatively poor student, that seemed ridiculous to me. I tried to contact hosts on Couchsurfing. Good luck in Hawaii, with not-dodgy looking hosts and last minute.
So I arrived on the island with no idea where I'd sleep.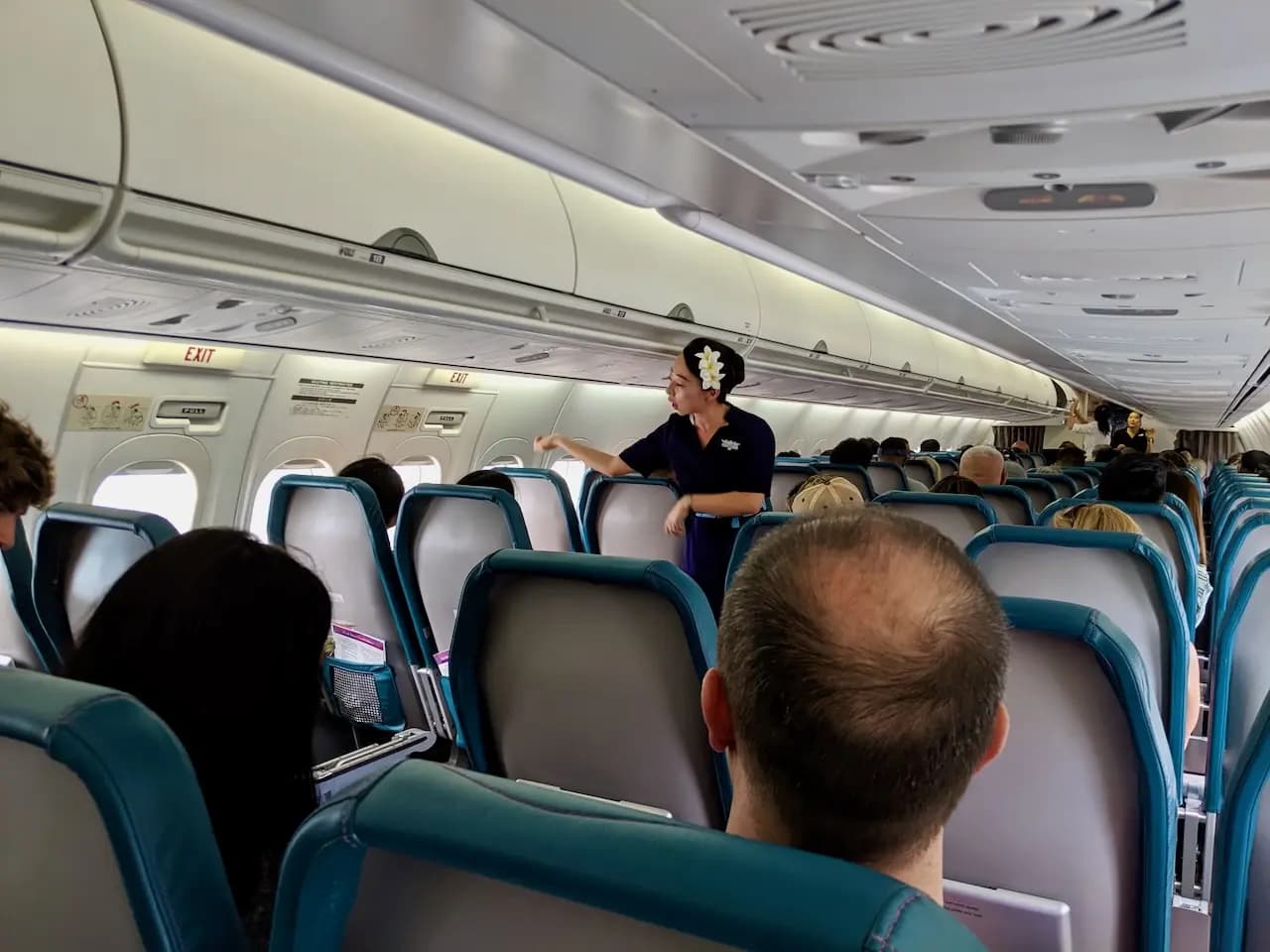 After remotely brainstorming scenarios with my brother (asking strangers for a roof, too risky; renting a car to sleep in, too young to rent; sleeping on benches, rip my back and don't wanna get arrested) he threw the idea of getting a hammock at Walmart.
I checked and yeah they had some in stock.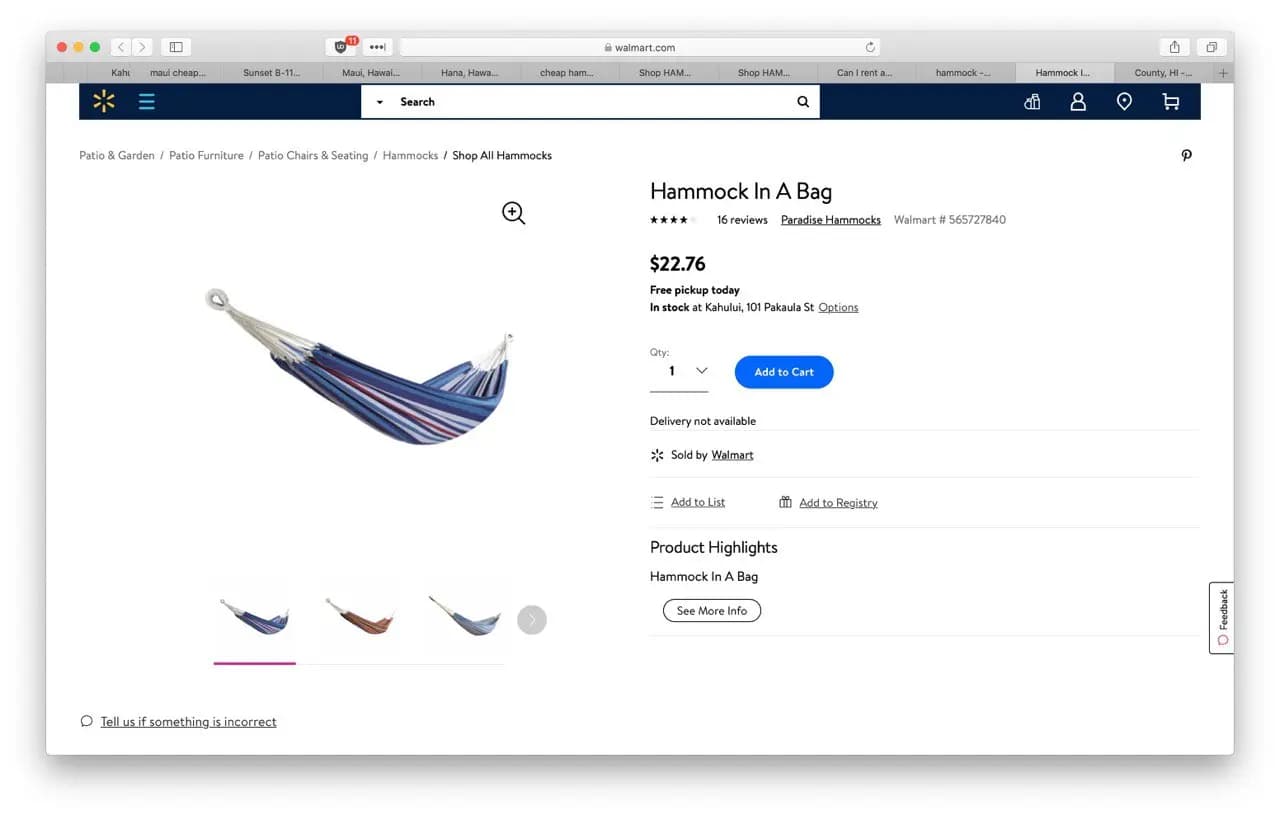 So after walking a good stroll from the Airport to the nearest Walmart, I got a thin hammock for 30$, two survival blankets, a bunch of rope, a flashlight and some low-volume/high-calorie food and water.
There was less than an hour before sunset. I hurried to the busiest road I could find and hitched a ride to the coast, direction west.
A friendly old guy picked me up. He was the host of a local alternative music radio station. Before dropping me off in Wailea, he gave me his business card and told me to give him a call if I ever needed anything.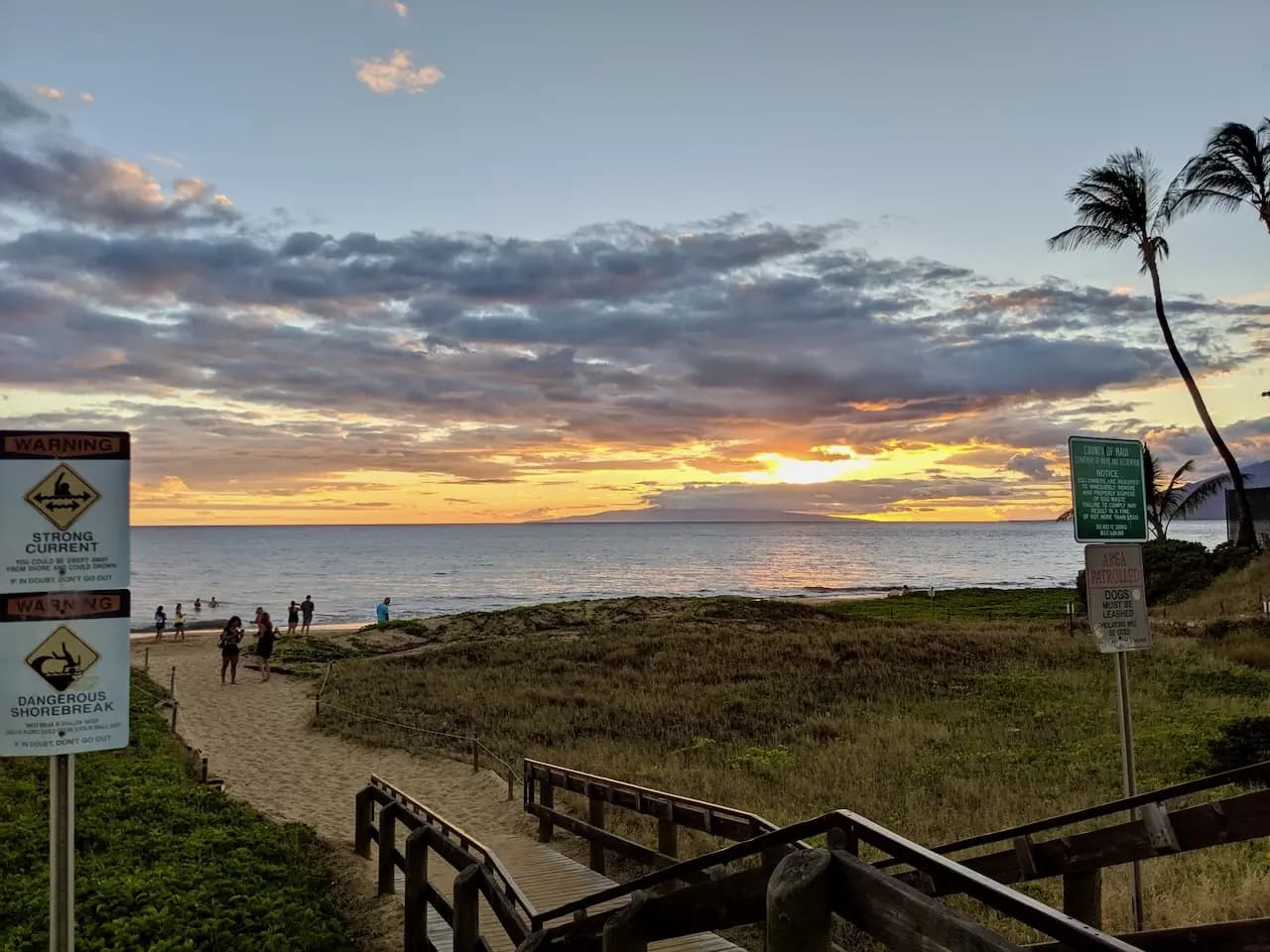 After watching the sunset go down, reality hit. Where do I sleep?
Wailea didn't look very hammock-friendly so I decided to go south, put a random pin on the map and started hitchhiking.
A mom and her daughter picked me up. When I told them where I wanted to go she said no way.
It's not safe for a foreigner alone. Plenty of crackheads there sleeping in the woods. I can't drop you there.
I lied and said I was meeting a friend there and wouldn't be alone. Hmm, ok, she reluctantly agreed to drop me there. She waited for my friend to pick me up, so I faked a phone call and said that he was a bit further but would just walk over there.
By now it was dark. Man, finding a sleep spot in total darkness just after someone told you its super dodgy is a trip. I walked to the beach, went to the closest woods nearby and found a nice tree to sleep. Mission accomplished.
In the morning a beach cleaning guy came with his truck nearby. I was most likely in an illegal spot. The motor noise instantly woke me up and I jumped out of the hammock, took it down super quickly and waited 15 mins crouched, still half asleep while he did his thing and left. (He probably wouldn't have cared.)
Then I packed my stuff, went for a dip in the ocean and hitchhiked back to the city.
With the days I refined my spot. Deeper up the hill and into the forest. Once or twice people passed by, but the experience was magical.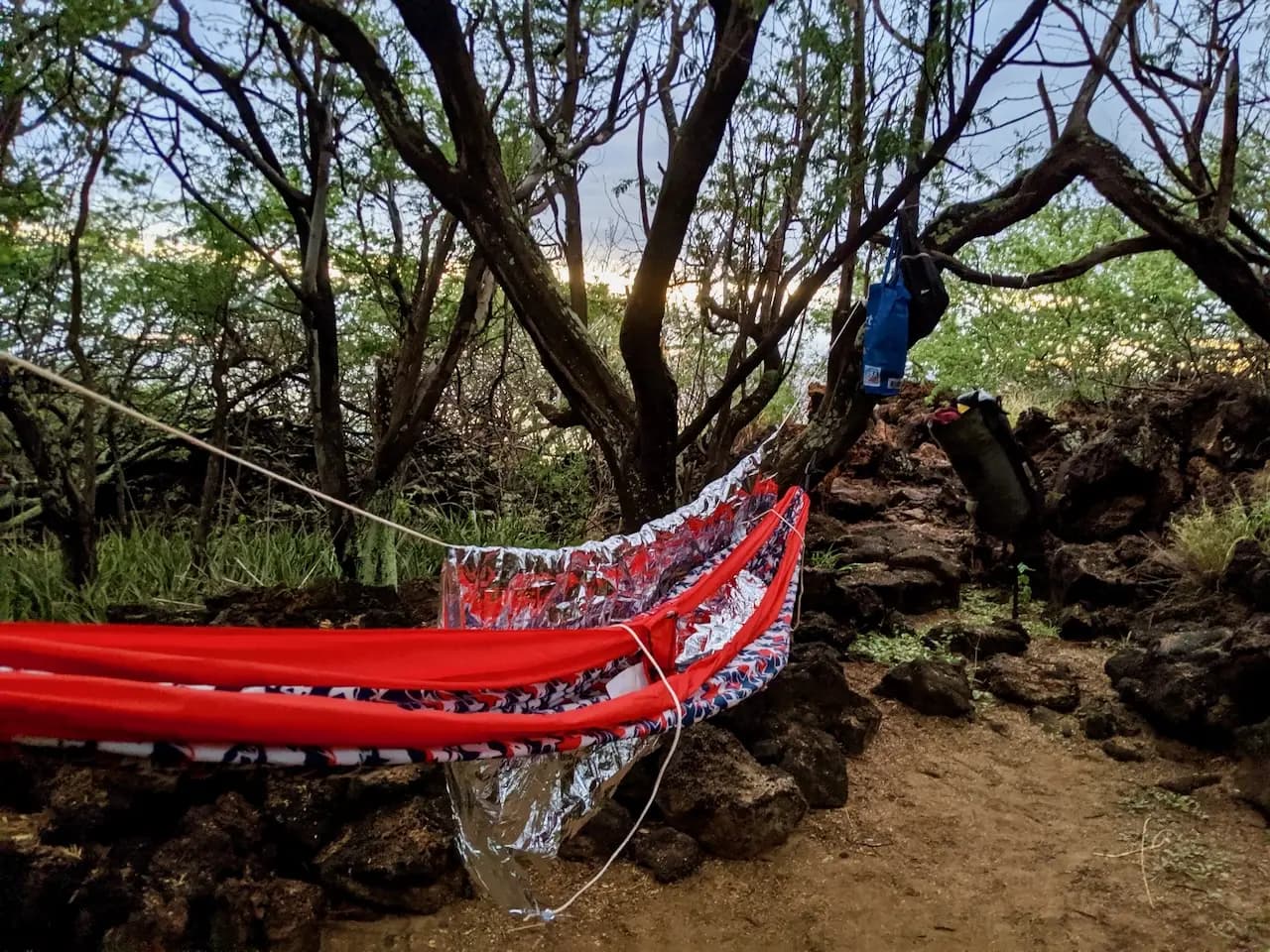 50$ sleep setup
There are two things that will kill the hammock vibe: cold and rain.
Meet the Cold Butt Syndrome: with no sleeping bag, as you go into the night and the air gets fresher, the slight breeze that wasn't disturbing you before will slowly freeze your ass.
I half remedied to this by putting one of the survival blanket under the hammock to reflect the heat back to my ass.
What about the rain? Luckily I didn't have a lot of it, but the few I got was enough.
Once again, a survival blanket to the rescue, as a DIY roof.
Until the wind gets under it and blows it away (it literally doesn't weight anything).
It took me a couple tries to get it more-or-less stable, by attaching rocks every 40 cm to add weight around it.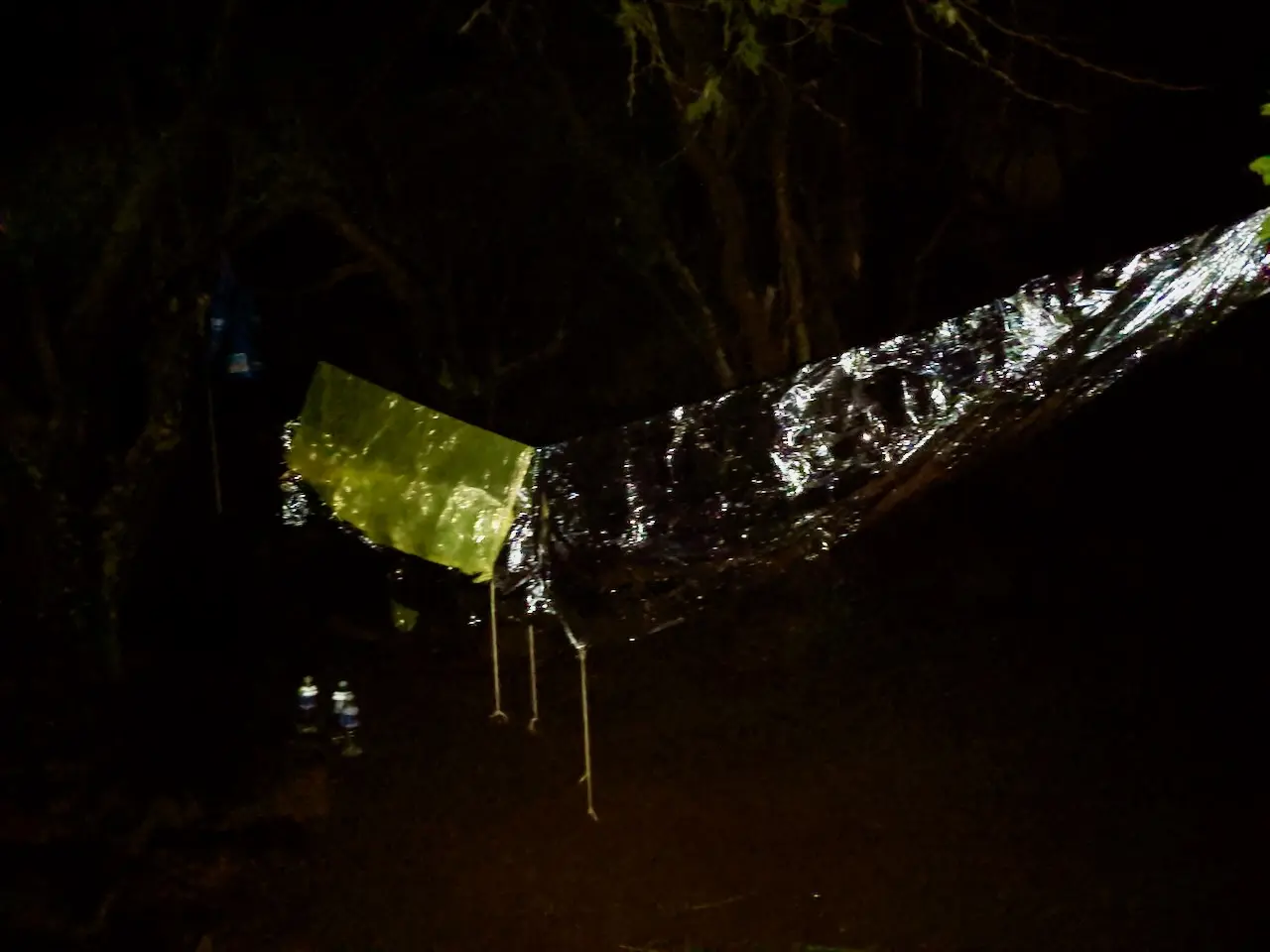 How I tried to block the rain, spaceship mode
Still the blanket was barely long enough, and some water was getting in. Hrrrrr.
Riding with Patrick
I hope you don't mind I smoke weed for my conditions.
There was a strong smell inside the car. This was a couple hammock nights later.
Patrick was a 80 yo retired doctor.
I explained I was just cruising around and thinking about exploring the east side. He proposed:
Do you know Haleakalā? You have to see it, its's Maui's volcano. There's cool hikes up there and a crazy view; It's one thing you have to see on Maui. You know what, I'll even take you there if you want. I don't have anything to do today.
Sounds like a plan to me. On the way, we talked a lot. Patrick gave me a rich history lesson of Maui and its sugar plantations. Told me about his life, his late wife and all.
The ride up was longer than expected, but as you pass the cloud-line and arrive up there, woah.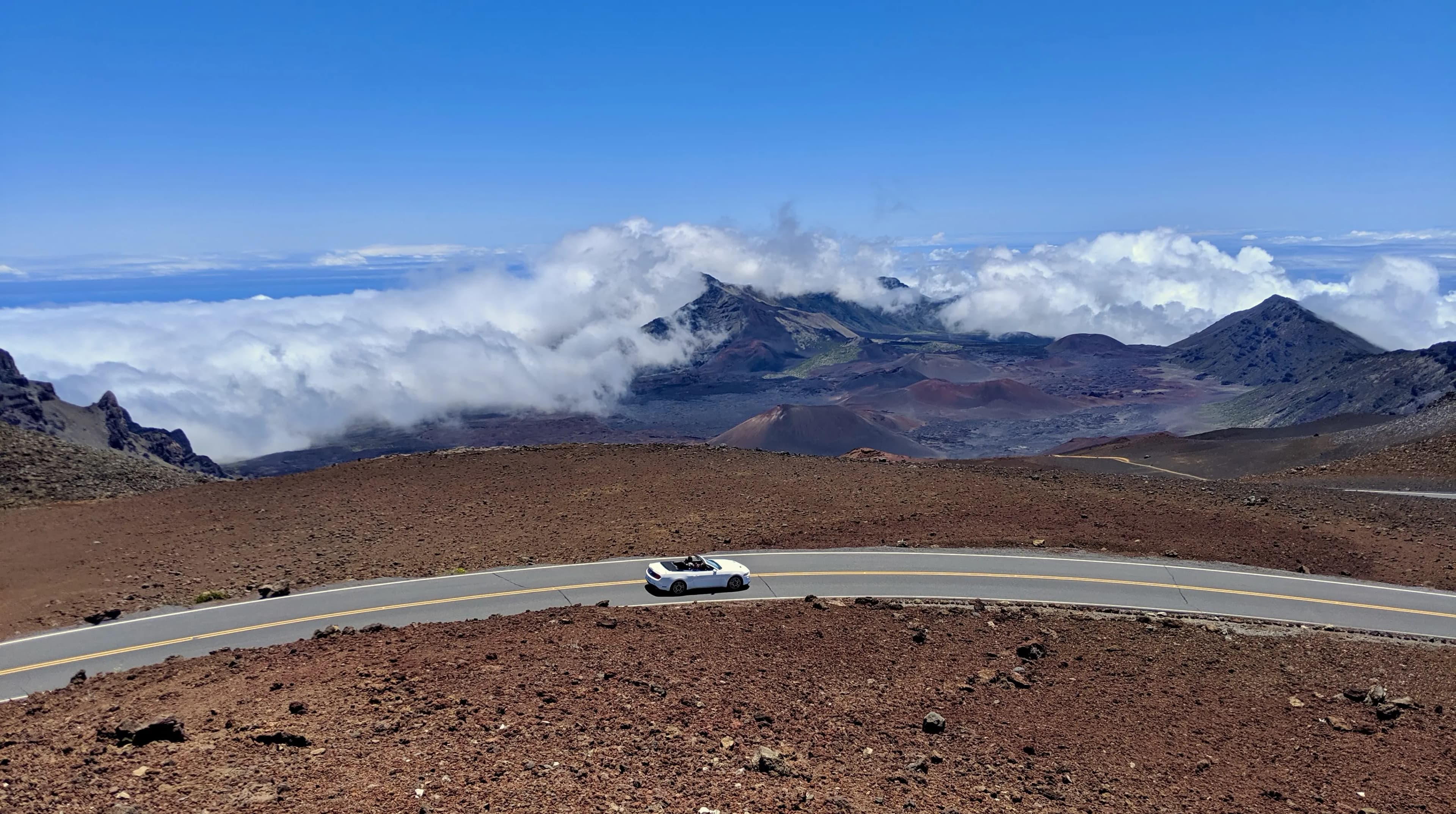 The volcanic park is a bit of an alien planet. Plant species that evolved in isolation from everything else don't resemble anything we are used to. Protected from the bottom.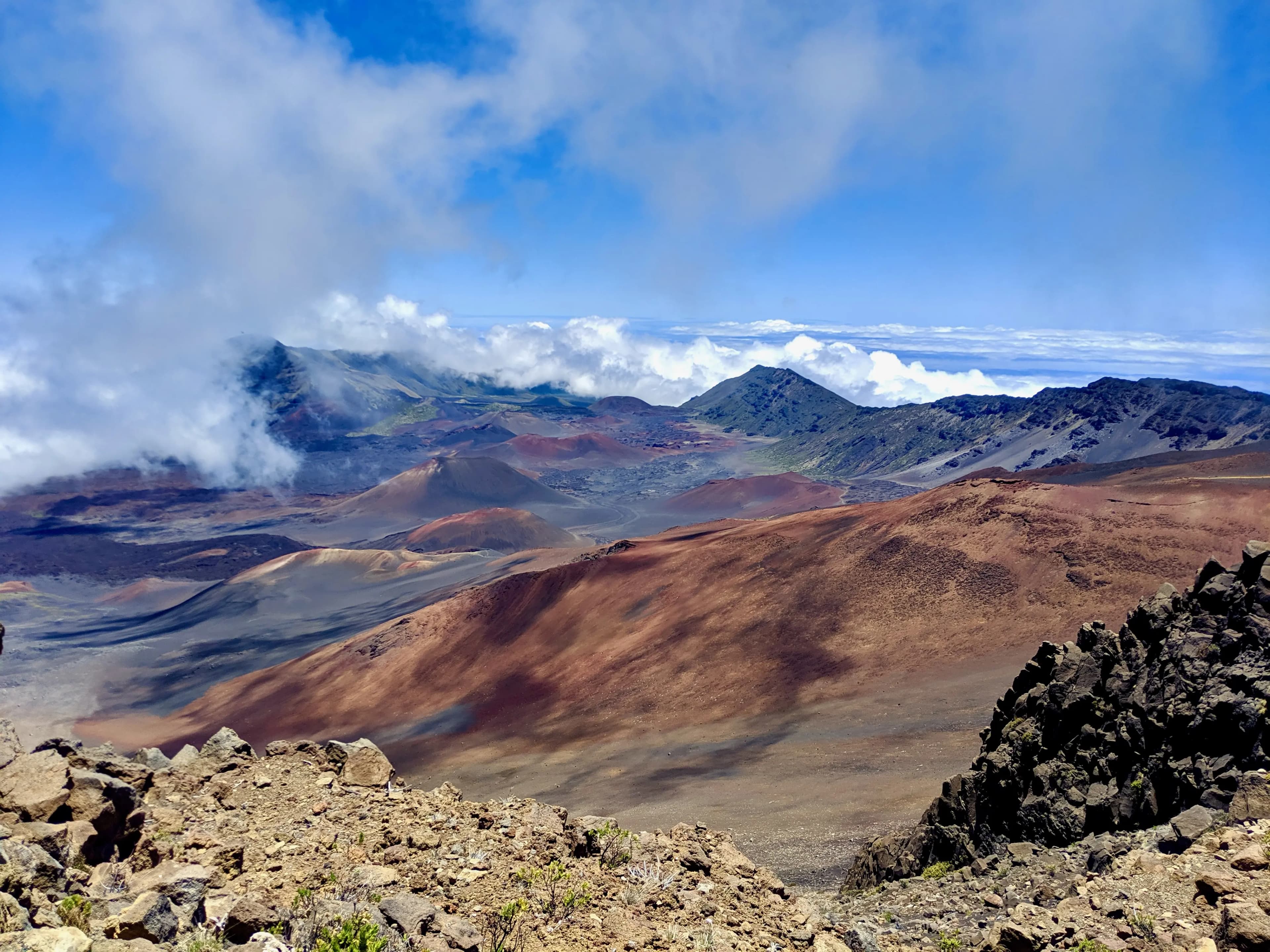 Patrick was kind enough to host me this night.
We smoked weed while watching a basketball game at his place. I had the best sleep in a long time.
He told me that he enjoyed having some company for a change.
Another time, as I was hitchhiking a bit randomly on the highway through the island, a guy in a pickup truck picked me up. He was super amazed by my travel stories. At some point he said:
"What's your plan tomorrow?" - "I don't have any yet." - "Alright, here's what you're gonna do. Tomorrow at 6, walk down the hill where you usually sleep, on the other side. You'll see a white Catamaran, go there and say that you are the guy that Nick sent. I own a company doing cool boat tour, you'll see."
I winced at the 6am time, but no way to refuse that.
So the next morning I went and it was awesome.
We went to swim and snorkel around the island of Nihoa ("birds island"). Then we had an extravagant seafood lunch (my first real meal in weeks) and ended the day swimming with rays and turtles.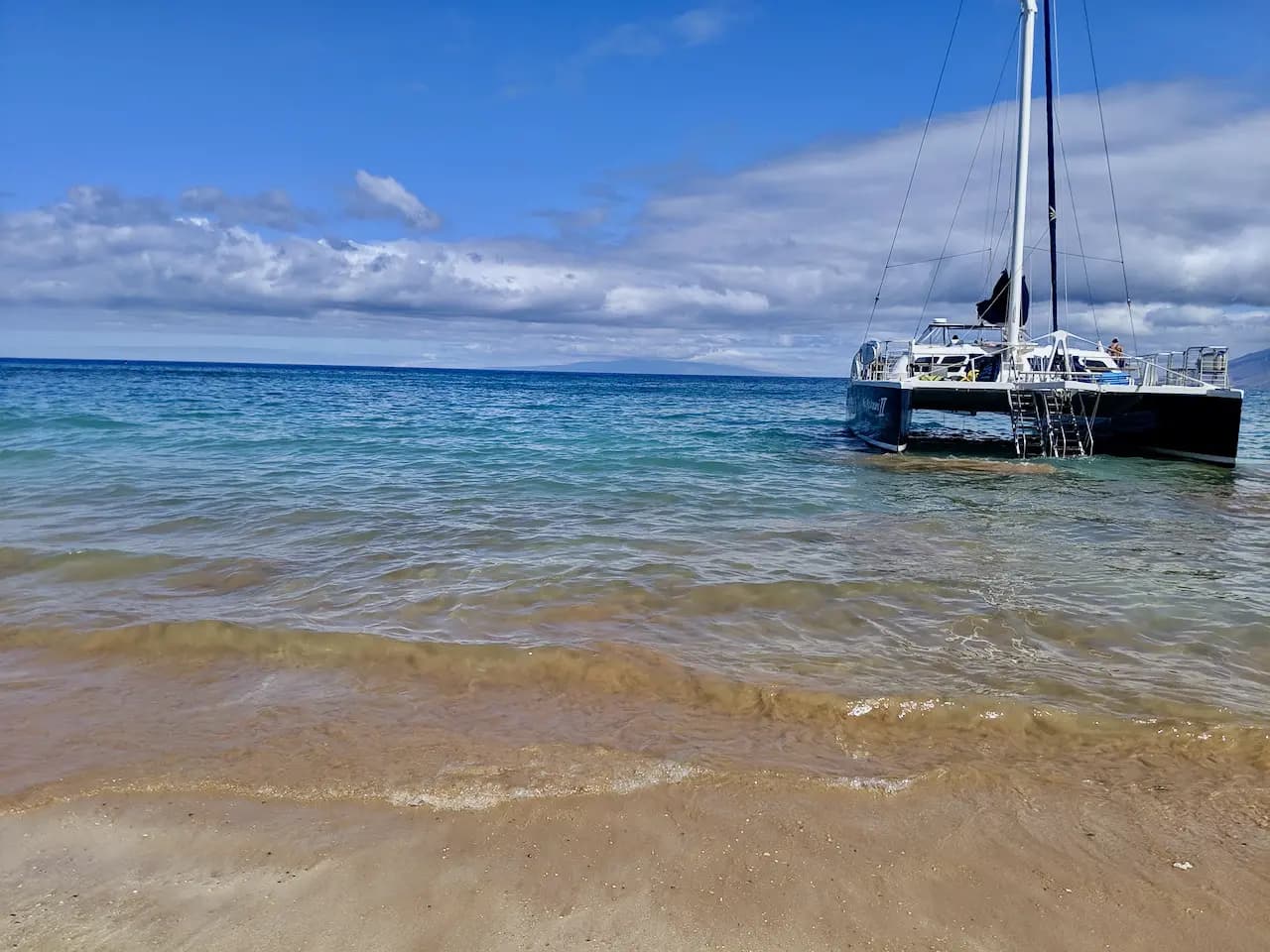 The boat captain was kind enough to drop me back to the city at the end.
Road to Hana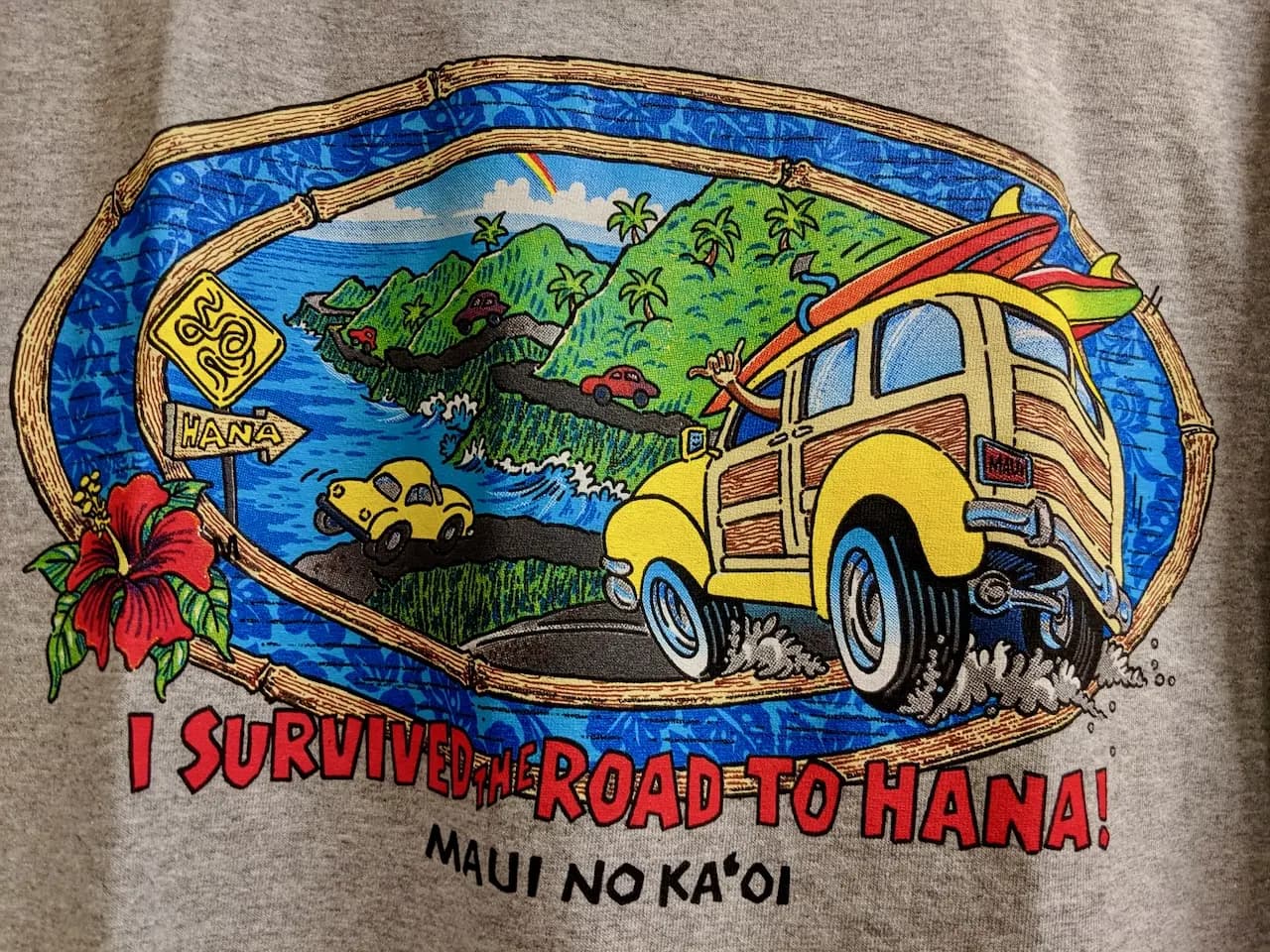 I was hitchhiking to my usual spot. This time was hard, waited almost an hour.
A girl named Clara picked me up. She came here to escape LA for a couple weeks.
"I don't usually do that but you looked friendly."
On the way, we stopped at a beach to enjoy the sunset.
There was turtles on the black-sanded beach, it felt magical.
She took me to my sleeping beach where we met Jude, a Malaysian-American that was also traveling alone.
We smoked a joint from a big stash Patrick gave me ("It's Maui Wauwi haha, take it, it's a gift man and I get it for free from my neighbour." ) and agreed to go on an adventure together the next day.
image not found
She picked me up the next day. We went to her appartement and Mike, a friend-of-friend of her (native Maui-an who never left the archipelago) joined.
He would be our "guide" for the day.
We decided to drive around the Road to Hana.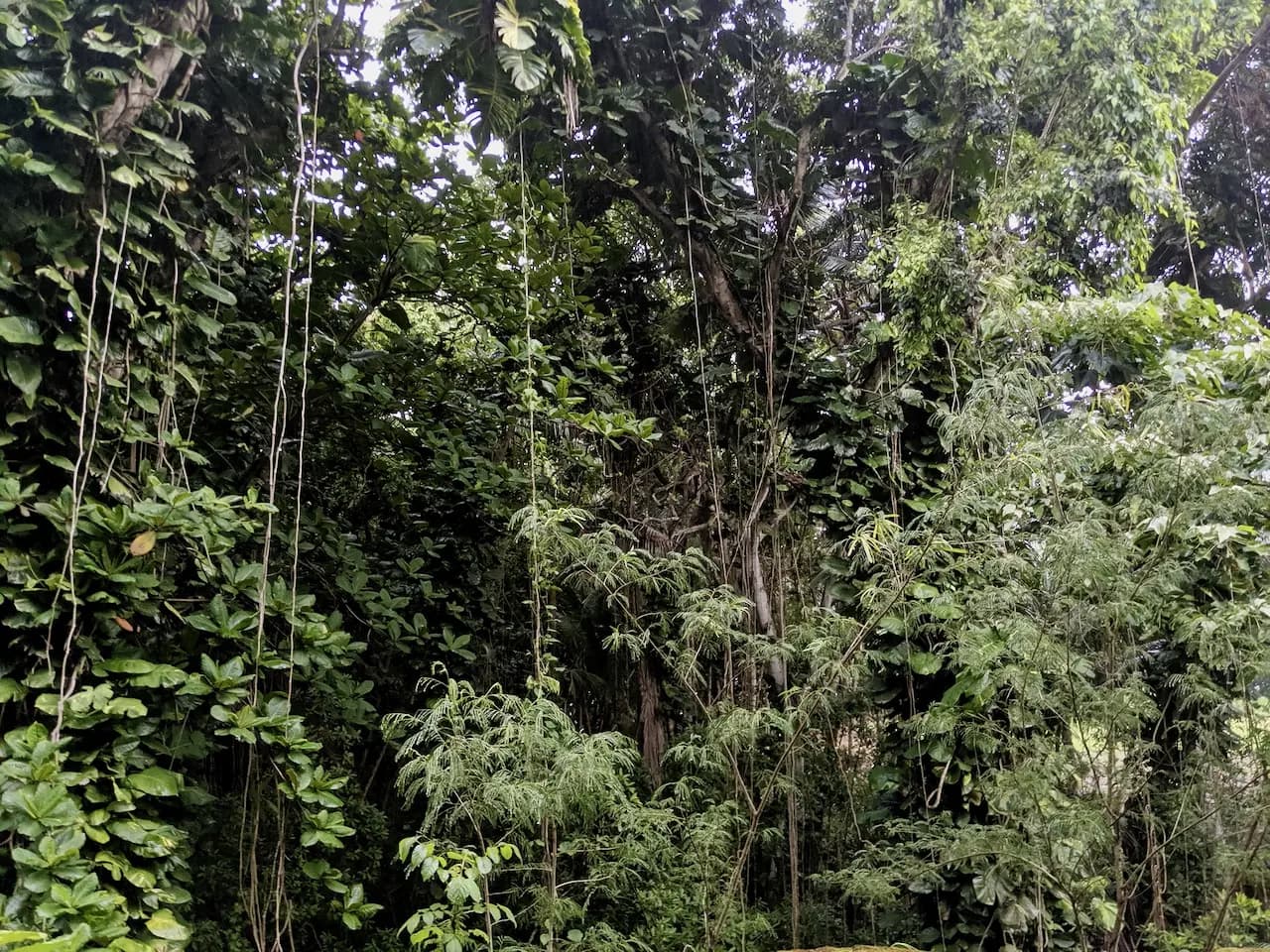 This day was a crazy wild ride.
Every stop we did was a mix of drinking and fooling around. Mike showed us a couple of his secret spots.
We stopped near Pea'hi to jump from a 15m rock.
We frantically climbed 10 mins through a mix of rocks and mud to jump from a waterfall.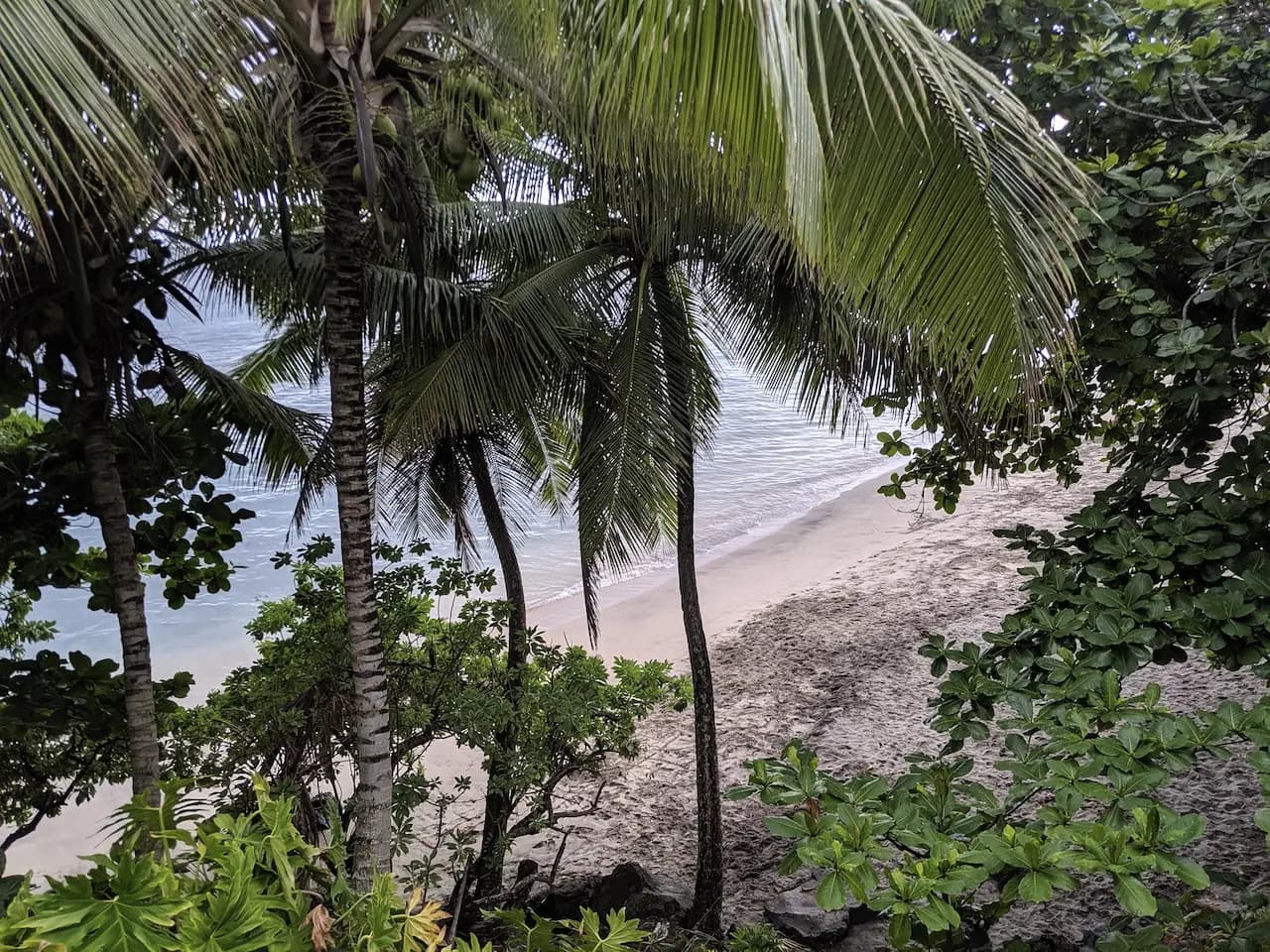 We smoked joints in the back of car while the music was blasting.
The road to Hana is already famously very dangerous (picture a road made of S turns, with no barricade, and the ocean underneath if you fall) but Clara, encouraged by Mike and her LA driving habits was driving recklessly to the point where other drivers were pulling aside to let us pass.
Thought I would die that day.

Jude, high.
Bonzai Mike
Last guy I met on the island was Bonzai Mike.
I had a few hours before my flight and really wanted to go see check out Peʻahi, where the iconic Jaws wave sometimes broke.
Bonzai Mike, had an old, rotten but very stylish pickup.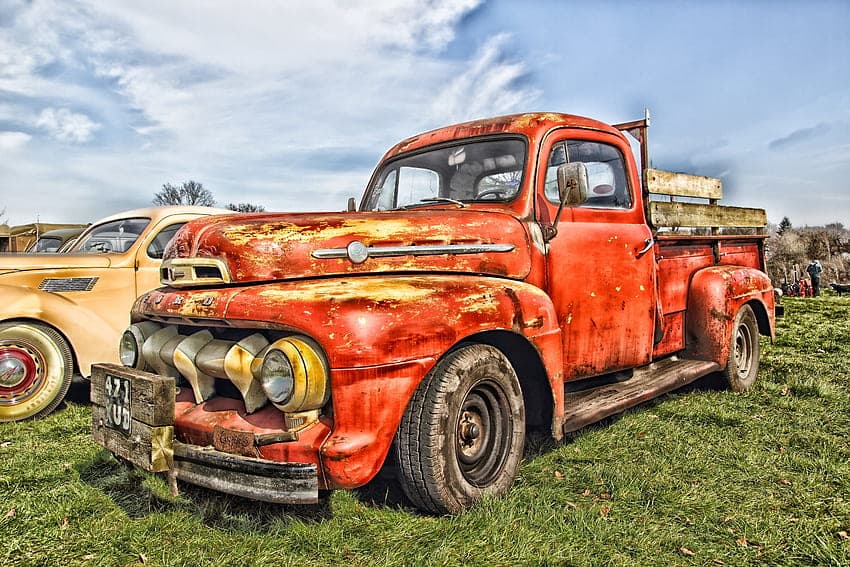 He was growing top-grade bonzais in Hawaii and shipping them off to mainland. Very profitable business apparently. Although old, his face was so friendly it was hard not to want to be his friend.
He was using a weed vape. I had never tried that before (and gosh it's powerful.) Tropical rain started falling.
"I'm only going to Paia to watch a game at the bar, but I'll drop you at Pe'ahi otherwise you won't make it to your flight. If you really can't find anyone else give me a call and I'll come get ya'."
I didn't see any big wave that day but I did see a group of turtles chilling on the beach.